Every day work trousers
Published: 16 October, 2015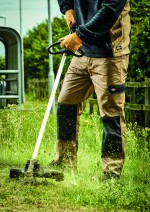 DICKIES reports it has recently launched its new ED24/7 trousers saying they are not only practical for the everyday working environment but are also comfortable and stylish while 245gsm fabric ensures they are tough but light enough to retain agility.
Every Day trousers (ED24/7), are free of any exposed metals such as zips, and buttons said to make them scratch free and suitable for use across all industries. Dickies says cargo pockets ensure the wearer has direct access to tools enabling jobs to be finished quickly and easily.
The company says using the two-tone colours customers can easily match the ED24/7 to any other item of clothing in the extensive Dickies workwear range.
Click here for the full unedited version of the release as provided by the company