Amin Almasi examines integrally-geared compressors for HVAC and plant applications for PWE
Over a five-year year period, a properly focussed maintenance plan will save at least half the cost of unplanned production stoppages caused by thermal fluid breakdown. However, the frequency of gathering sampling data for a heat transfer fluid, on which the maintenance plan depends, is determined by whether the fluid is mineral or synthetic. Clive Jones, managing director of Global Heat Transfer explains.
With the UK facing pending shortages in energy reserves on the national grid, Leslah Garland spoke with Billy Durie, critical services development manager at Aggreko Northern Europe, about the company's key services and focus.
Sign up for the PWE newsletter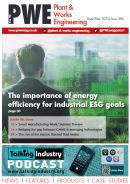 Latest issue
To view a digital copy of the latest issue of Plant & Works Engineering, click here.

View the past issue archive here.

To subscribe to the journal please click here.
To read the official BCAS Compressed Air & Vacuum Technology Guide 2018 click the image
Poll
"What is the most important issue for UK manufacturers during Brexit negotiations? "
Twitter
Events Diary