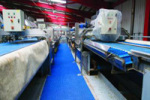 Protection for pickers
Published: 04 February, 2014
Vynagrip matting has been installed, for the safety of workers, at Alan Bartlett and Sons, a farm in Cambridgeshire which specialises in the large scale supply of carrots and parsnips.
The matting, manufactured in the UK by PLASTIC EXTRUDERS LTD, has been laid along the production lines where pickers inspect the vegetables as well as beside the cutting and packing machinery. In this situation, Vynagrip was said to be the ideal solution as its cushioning properties gave added underfoot comfort while its deeply-etched surface made it highly slip resistant. Its open grid construction allowed for liquid spills and production waste to fall through, further reducing the risk of slips and falls, the most common cause of major injuries in the workplace, according to the HSE.
w: www.vynagrip.com.