Keeping cranes running straight and true
Published: 15 November, 2023
Lifting equipment specialist, Konecranes, has launched its RailQ 3D crane runway survey programme. The package has been designed to provide highly accurate measurement of crane runway alignment and is backed by comprehensive analysis of cloud-based data.
RailQ 3D uses the latest high-definition laser scanning technology to measure critical aspects of runway systems. Parameters covered by the survey include the relative alignment of runway rails. It also measures the geometry of girders, wheels, guide rollers end trucks and other crane components to provide a comprehensive overview of the condition of material handling equipment. RailQ 3D uses remotely operated data collection meaning that it is a faster and safer process than traditional survey methods.
Data obtained during the survey is assessed by Konecranes' experienced engineers, using the company's proprietary analysis and 3D visualisation software to identify potential crane alignment issues. The findings are used to highlight areas where critical performance and safety factors may be compromised and recommend remedial actions. Undertaking RailQ 3D surveys as part of a scheduled inspection programme for critical lifting equipment helps pinpoint chronic alignment issues, indicating the need for engineered maintenance solutions. Timely corrective action during planned breaks in operating schedules reduces crane downtime and lost production. It also avoids further deterioration of the lifting equipment fault.
RailQ 3D is fully compatible with the company's on-line customer portal, yourKONECRANES, facilitating prompt and easy access to comprehensive intelligence on crane performance, maintenance history, asset condition, usage data and agreement details. Using the Konecranes' TRUCONNECT interface customers can receive alerts and monitor data on service activity, crane performance and spend for single assets or an entire fleet of material handling equipment. Information is updated in real time during service visits by IT enabled technicians, providing customers prompt access to the latest and most comprehensive data, reports and recommendations.
Konecranes' Customer Experience Manager, James Bow, stated: "The development of RailQ 3D represents a significant investment in state-of-the-art technology, providing a value-added service for our customers. RailQ 3D provides data accuracy unmatched by traditional survey methods. Crane intelligence is available in real time allowing our customers to make informed decisions on maintenance and service activity, to improve safety and performance. It also helps maximise operational time and extend the lifetime of lifting equipment."
https://twitter.com/konecranes
https://www.linkedin.com/company/konecranes/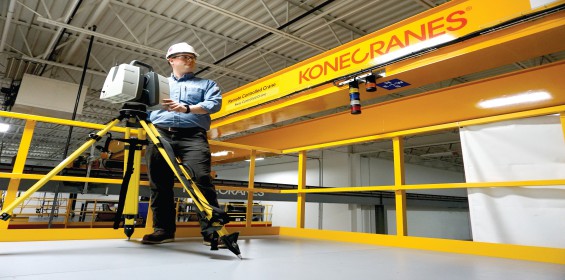 Konecranes has launched its RailQ 3D crane runway survey programme.