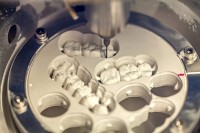 Benefiting from oil-free compressors
Published: 30 August, 2023
By releasing the new MGF X Line range of oil-free compressors into the UK market, FPS AIR COMPRESSORS says it is providing dental labs running CAD/CAM-driven milling machines and 3D printers with a proven way to utilise a continuous and highly reliable source of clean, dry compressed air without risk of contamination.
Computer-Aided Design/Computer-Aided Manufacturing (CAD/CAM) systems are finding growing use in the creation of dental restorations such as crowns, bridges and veneers. The new X Line can supply clean and dry compressed air continuously and reliably to CAD/CAM-driven milling processes, ensuring the precise, reliable and high-integrity production of dental prosthetics.
A further benefit of using innovative MGF X Line compressor technology at dental labs is increased air capacity and, subsequently, lower energy bills. This advantage arrives courtesy of a patented MGF system that reduces the air requirements of the membrane dryer, which in turn increases the available flow of air from the compressor by 20-25% to help optimise dental lab processes such as milling.
The X Line is also ideal for serving 3D printers, which although an additive rather than a subtractive process like milling, still need a compressor that provides continuous, high air quality and low vibration to support the precision and stability demanded by the 3D Printers industry. Notably, as 3D printing technology becomes more widespread, the importance of air quality in the printing process is gaining more and more attention in the process.
Click here for the full release
t: 01865 892 620
e: sales@fps-compressors.co.uk
w: www.fps-compressors.co.uk/oil_free_compressors-cadcam_applications.html