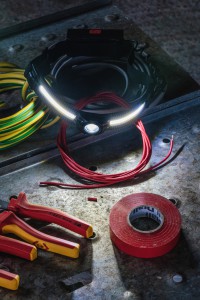 New head torch
Published: 12 October, 2022
C.K TOOLS has announced it has launched a brand-new Wide Field Head Light (T9630) to ensure greater visibility and safety when accessing wires or cables in dark and confined spaces.
The COB LED head light comes with an RRP of £39.00 and four modes of operation – spotlight, wide field, full beam, and dipped beam – providing the versatility needed to suit all manner of environments electricians find themselves in.
More importantly, the head light performs at a high CRI (Colour Rendering Index) rating of 80, which when optimised with a combination of 400 lumens of brightness (equivalent to a 40w LED bulb) and 5,700 kelvins of colour temperature (similar to natural light) means it can more closely project the true colour of the object it is shining on – critical when working with coloured electrical wires in dark spaces.
Click here for the full release
W: www.ck-tools.com/find-a-stockist