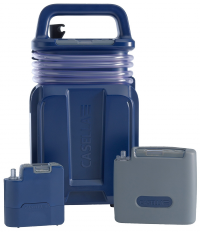 High flow sampling pump to be showcased
Published: 05 September, 2022
CASELLA, a global occupational hygiene and workplace hazard monitoring expert, is a founding partner of Safety, Health and Wellbeing LIVE, September 28th-29th, Farnborough International, and says it will showcase the most technologically advanced high flow pump in the air sampling market on stand 142.
Casella says it is dedicated to improving health in the workplace and community with life-changing monitoring technology. At the event, Casella will exhibit its advanced solutions for monitoring noise, dust and vibration, alongside its latest innovation, the Vortex3 high flow pump.
Casella has a long history of manufacturing air sampling pumps and the Vortex3 completes the family, offering consultants, contractors and specialists a flow accuracy better than +/-5%.
Using Casella's patent-pending, interlocking design, the Vortex3 has an ergonomically comfortable handle and weighs just 2.17kg, saving operatives time and effort as they can carry multiple units onto a site with ease. Available in two versions, the Vortex3 Pro model is compatible with Casella's pioneering Airwave App and Bluetooth connectivity, enabling users to remotely start, pause or stop a measurement run, monitor battery life and memory capacity and check measurement progress direct from a mobile device.
Data can be emailed alongside photos and site details, adding context to the sampling and further simplifying the reporting process. This remote access facility makes monitoring and data collection easier, safer and faster and is unique to the Vortex3. Eliminating manual reporting not only reduces effort but provides additional traceability and removes the possibility of writing data down incorrectly.
Casella will also be exhibiting its real-time dust monitors, sound level meters, personal noise dosimeters and environmental monitors. Attendees of this year's show will learn about Casella's state-of-the-art innovations for improving worker health through monitoring technology, as well as meet Casella's product specialists for hands-on demonstrations.
"We are thrilled to be a founding partner of this event in Farnborough," says Tim Turney, Casella's global marketing manager. "We invite visitors at Safety, Health and Wellbeing LIVE to join us on stand 142 to learn more about reducing occupational and environmental health risks through cutting-edge monitoring solutions."
https://www.linkedin.com/company/casella-solutions/