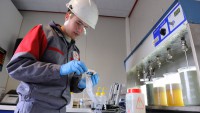 Swift response avoids lost production
Published: 21 July, 2022
For Bridgnorth Aluminium, protecting against Legionella contamination and managing the water quality of its cooling tower system is essential. As part of a partnership, VEOLIA WATER TECHNOLOGIES UK (VWT UK) has assisted with water treatment and compliance services at the specialist's production site.
Internet-enabled controllers are a key tool VWT UK recommend for improving control of cooling towers systems. On this occasion, the connected controller sent an alert to the VWT UK team. Upon receiving the notification, the VWT service support manager used the remote access capability to view the system status.
The source of the issue was identified as an oil leak and the team was able to recommend corrective action to bring the system under control.This swift response meant that there was no need to halt production, avoiding lost revenues and costs of up to £250,000 per day.
Click here for the full release
www.veoliawatertechnologies.co.uk