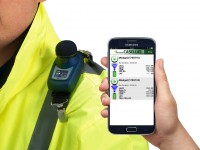 Noise Dosimeter receives WELMEC approval
Published: 13 July, 2022
CASELLA has announced it has achieved Western European Legal Metrology Cooperation (WELMEC) approval on its dBadge2 noise dosimeter in Spain.
The company says the new certification establishes Casella as one of only two manufacturers that have a product's acoustic performance verified against the international standard for noise dosimeters IEC 61252, ensuring confidence in measured results.
The WELMEC certification is the first of its kind for acoustic products, indicating that noise data is being stored in a new way within the instrument, allowing downloaded data to be legally recalled and verified. The certification also provides a way of ensuring that the instrument's operating system and firmware is original and the correct version.
The new certification adds to the dBadge2's existing approvals for intrinsic safety, including MSHA, IECex, ATEX and QPS.