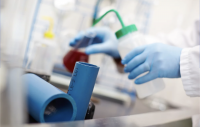 New chemical resistance guide
Published: 26 May, 2022
ALIAXIS UK, a global expert in fluid management solutions, has announced the launch of its new Chemical Resistance Guide web-based tool. Forming part of the solution provider's comprehensive technical support for customers, the guide is designed to serve as a useful tool to aid piping system material selection for chemical applications.
When it comes to selecting pipework systems for the purposes of safely conveying and transporting chemicals, it is vital that the correct piping material is installed - one that is compatible with the intended chemical substance.
It is for this reason that Aliaxis has chosen to create its own Chemical Resistance Guide. The intuitive, time-saving and user-friendly web-based tool enables customers to determine the compatibility of its system materials with a multitude of chemical substances.
Click here for the full release