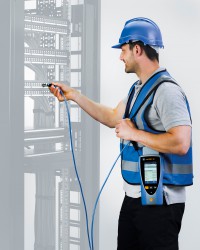 Cable certifier power doubled
Published: 15 March, 2022
TREND NETWORKS has launched LanTEK IV-S, and says it is its fastest, most powerful and easy to use copper and fibre cable certifier to date.
"LanTEK IV-S has double the power of the original LanTEK IV model, which was a trailblazer when it was first introduced in 2019," says Tim Widdershoven, marketing director for TREND Networks. "LanTEK IV-S builds on the exceptional functionality and reliability of the original model, with a new dual core processor, new 3.0 operating system software and twice as much memory storage, enabling 5,000 tests to be saved."
The company says testing links with LanTEK IV-S can now be done 16% more quickly and to help manage the test data, the best-in-class TREND AnyWARE Cloud system has also received a major speed improvement powered by Microsoft Azure.
Click here for the full release