Degree apprenticeship programme helps 60 engineering careers
Published: 08 March, 2022
Sixty engineers from companies across the UK have undertaken a degree apprenticeship from Siemens Digital Industries.
Among the companies who have signed up to the four-year programme since it launched in 2017 are AstraZeneca, Saint-Gobain Formula and Zeeco Europe.
Co-delivered with Tameside College and the University of Salford it uses a block delivery model combining academic modules in automation, robotics, and embedded systems, Siemens S7 Certified PLC programmer training and accreditation, and a workplace project to solve a real-world problem.
The outcome is a degree-qualified engineer with a range of practical skills and technical understanding needed to capitalise on the opportunities of Industry 4.0.
Seven apprentices have so far graduated with a BEng Hons (Bachelor of Engineering) in Control and Automation, and a further 53 are on target to achieve their qualification and accelerate up the career ladder.
Rob Rowson started his engineering degree apprenticeship with AstraZeneca in 2020.
The 20-year-old mountain biking enthusiast from Macclesfield was inspired to pursue electrical engineering, following in the footsteps of his dad's career as an electrician.
"I've always kept my options open when it came to vital decisions like choosing GCSEs and A-levels and made sure I had a good mix of STEM and humanities subjects," Rob explained. "I took the same approach when I considered the next step but decided that after years of study I wanted to get some real-world experience under my belt. A degree apprenticeship offers the best of both worlds – paid-work and study! For me it was a no-brainer."
After a full academic year at Tameside College, Rob is now working on-site at AstraZeneca's facility in Macclesfield and studying in block release for his HNC in Electrical/Electronic Engineering and on target to graduate with a degree in 2024.
"From the first moment I stepped into AstraZeneca I knew my chosen path was the right one," Rob added. "All the study in the world doesn't prepare you for the thrill of working on-site in such a high tech and fast-moving operation at the cutting-edge of medical innovation.
It's a great feeling when the penny drops and something you've studied appears as a real-life problem in front of you. Every day is different and there is a great team around me to help me find my way."
Emma Worthington, Vocational Skills Consultant, and David Stirk, Engineering Apprentice Coach, from Siemens Digital Industries, have worked closely with partners to develop the degree programme.
"We started this journey four years ago in a new landscape of apprenticeship standards for which no training provider knew what a successful programme would look like," Emma said. "Our partnership with AstraZeneca, Saint-Gobain Formula and Zeeco Europe has developed a level six industry-relevant qualification.
"Working closely with managers and automation engineers from all the companies who have committed their apprentices to the programme has been fundamental to its success. Together we are creating generations of highly qualified engineers ready for the challenges that lie ahead.
Kim Hardman, UK Apprenticeship Lead at AstraZeneca, said: "Our Engineering Apprenticeship Programme is developing the technicians and engineers of the future. Engineering apprentices are hugely important, maintaining complex equipment and upholding our high standards for safety, manufacturing quality and documentation, and helping us solve the challenges that can arise with some of the most advanced medical equipment in the world.
"But as well as key technical skills required now and in the future, the degree apprenticeship programme grows their abilities in crucial complimentary areas like organisation, prioritisation, problem solving techniques, teamwork, communication, and presentation skills."
Brian Holliday (pictured), Managing Director, Siemens Digital Industries, said: "National Apprenticeship Week is the perfect opportunity to celebrate the success of our degree apprenticeship programme and illustrate what can be achieved by collaboration between industry and academia.
"Our programme has helped us reach out to a myriad of manufacturers including pharmaceutical, OEM, chemicals, food and drink and even global supply chain leaders, who strive to close in on the skills gap and bring its work force up to speed to use new innovation technologies and automation in their factories.
"My own career started with an apprenticeship, so I fully endorse them as a fantastic alternative to young people, and those looking to upskill, wishing to explore a different path to university and achieve a degree."
https://www.linkedin.com/company/siemens/
https://twitter.com/SiemensUKNews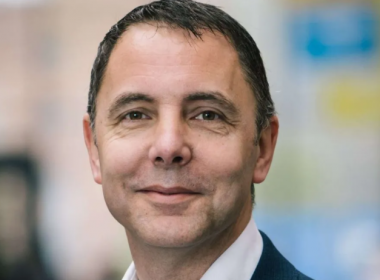 Brian Holliday, Managing Director, Siemens Digital Industries