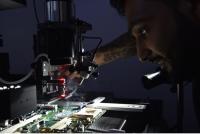 Helping firms through the semiconductor crisis
Published: 24 February, 2022
Blackburn-based NORTHERN INDUSTRIAL says it has enhanced its obsolete equipment buying capabilities in response to the global shortage of semiconductors currently affecting businesses across the world. The company says the global chip semiconductor shortage is an ongoing crisis affecting more than 169 industries which has led to major price increases, shortages and supply stream delays for all products that require semiconductors.
Commonly cited causes for the shortage include the COVID-19 pandemic, industrial tensions between the USA and China as well as various severe weather incidents and a spate of industrial fires.
In response, Northern Industrial, which exports spare parts and repair services to companies worldwide, has stepped-up its obsolete equipment buying capabilities with an enhanced Sell to Us section on its website and the expansion of its dismantling team.
Click here for the full release
t: 0800 234 3747
w: https://nicontrols.com/uk/selltous