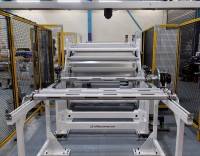 Machine guard frames supplied
Published: 25 January, 2022
MATARA UK, a specialist in automation, pneumatics and linear motion products, has announced it has completed a substantial project for the manufacture and supply of machine guard frames for T S Converting Equipment.
T S Converting provides solutions for slitting, coating and lamination of a wide range of substrates, tailored to suit customers' requirements. To ensure people do not get too close to the machinery when in operation, and to comply with safety regulations, machines are supplied to customers with a protective guard frame.
With T S Converting's latest project – a substantial order of mixed machines – the company turned to Matara, which has over two decade's experience in this field.
Working from T S Converting's CAD drawings, Matara cut the aluminium to the correct size and assembled the guarding panels to T S Converting's exact specifications.
Click here for the full release
t: 01684 850000
e: sales@matarauk.co.uk