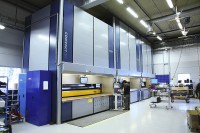 Vertical storage lift online planning service
Published: 03 November, 2021
RANDEX, a leading vertical storage lift company, is claiming an industry first for its rollout of a free online service that organisations can use to generate CAD drawings and specifications for their automated handling using vertical storage.
"By sharing our vertical storage technology freely with organisations and the supply chain community in this way we are helping to democratise business planning" says Randex director James Roberts.
Manufacturing, logistics and other supply chain users of the 'Compact Configurator' service tool on the randex.com website enter key data including their building height, storage and picking needs. The tool then generates a customised CAD drawing and specification showing their vertical storage lift height and footprint, optimum storage capacity and other information. The new service is available online at https://www.welandsolutions.com/en/build-your-storage-lift/.
An additional, warehouse optimisation questionnaire can also be accessed online at https://www.welandsolutions.com/en/test-your-inventory/.
Click here for the full release
w: www.welandsolutions.com/en/build-your-storage-lift/