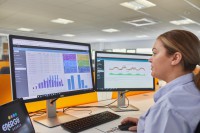 HH Accreditation
Published: 27 October, 2021
ENERGY ASSETS has announced it has achieved accreditation to provide Half-Hourly (HH) Data Collection and Data Aggregation (DCDA) services direct to its growing customer base of suppliers, brokers and end users across Britain's industrial and commercial (I&C) market.
The company, a leader in energy metering and analytics, says it has gained Elexon Performance Assurance Board (PAB) approval ahead of the Ofgem-mandated Market-wide Half-Hourly settlement (MWHH) reform planned for implementation before 2025 as part of the government's transition to Net Zero.
"Half hourly meter reads enable businesses and public service organisations to collect and analyse consumption data in granular detail, which means they are better placed to optimise energy performance, bear down on cost and reduce their carbon footprint," says David Sing, Energy Assets group managing director (assets).
Click here for the full release