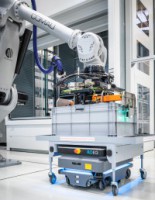 Image courtesy of BAE Systems
Factory of the future
Published: 27 August, 2021
A new fully connected factory is applying game-changing technologies – including MiR Autonomous Mobile Robots (AMRs) supplied by RARUK AUTOMATION – to help advance the manufacture of the UK's next-generation combat aircraft system, Tempest. Located at the Warton facility of BAE Systems, the 'Factory of the Future' has been designed in such a way that it can flex to manufacture different products within the same area, leveraging the advantages provided by the MiRs and intelligent systems to accommodate changes quickly.
Designed specifically to provide a connected intelligent factory for military aircraft technologies, the 'Factory of the Future' showcases manufacturing in a digital age. The facility serves as an experimental hub equipped with state-of-the-art technology to enable the brightest and boldest engineers to research, invest and test new technologies, build new capabilities and harness transformative ways of working.
"Notably, the 'Factory of the Future' demonstrates how BAE Systems remains competitive within the aerospace industry and addresses the challenges we are facing around cost/time reduction for future aircraft programmes," explains Ismail Master, manufacturing development engineer - Manufacturing Technology, at BAE Systems - Air.
Serving as the central logistics function within the new facility are a number of MiR autonomous mobile robots supplied by RARUK Automation.
"The MiRs enable a fully autonomous logistics solution for material flow within the facility," explains Mr Master. "We are developing this capability and exploring how it integrates into existing and new production facilities. The robots will work collaboratively alongside operators, distributing material line-side to assembly stations on a just-in-time basis."
Click here for the full release
t: 01462 670044
e: automation@raruk.com