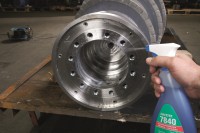 Universal biodegradable cleaner
Published: 23 August, 2021
New from HENKEL is a sustainable, eco-friendly cleaner and degreaser whose wide scope of application makes it highly cost effective. LOCTITE SF 7840 is water-based, solvent-free, non-toxic and non-flammable and can be used to soak, pressure wash, spray or wipe.
Supplied as a concentrate, this biodegradable product is diluted with water in accordance with the substance being removed and type of surface being cleaned. So, dependent on the dilution level, LOCTITE SF 7840 can be used for heavy cleaning and degreasing of engines, motors, castings and dip tanks as well as less demanding tasks such as cleaning concrete floors or work areas.
As a general purpose, biodegradable parts cleaner and greaser, the product is primarily formulated to tackle grease, oil, cutting fluids and workshop grime but it is also good for removing many other substances.
Click here for the full release