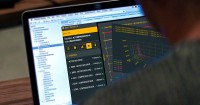 Accelerating digital transition
Published: 17 August, 2021
Trusted by leading cruise vessel owners, prominent global commercial ship operators and the UK's Royal Navy and Royal Fleet Auxiliary, James Fisher Mimic's condition monitoring software is renowned for its powerful ability to seamlessly capture, connect and combine any vessel data. Whilst Mimic is commonly used in the marine sector and on-board ships, it is a solution which can be used for any rotating equipment in any industry.
The data provides actionable insights into machinery health and performance on any fleet or equipment, anywhere in the world and at any time.
Through automated, online and wireless data collection from vibration sensors, process sensors and vessel control systems, Mimic 5 enables condition and performance monitoring of machinery, vessels and fleets. The technology analyses vibration data, fluid quality, performance and efficiency to inform a data driven proactive maintenance strategy.
Click here for the full release