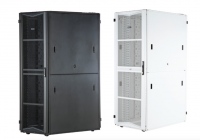 New generation cabinets
Published: 30 July, 2021
PANDUIT has launched its new FlexFusion cabinets which can be custom configured to meet the specific needs of any ITE environment.
The requirements of data centres are constantly evolving, it is therefore essential to have rack solutions capable of offering maximum scalability. With the growth of edge data centres and colocation sites, these arrays must not only be flexible in their design, but also be configured for specific environmental and equipment needs.
FlexFusion cabinets provide a single universal platform for all types of data centres and enterprise service needs, including Hyperscale, Edge and Multi-Tenant Data Centres. Built with the best-in-class weight load of 3,500 lbs (1.59 tons), and doors with a maximum airflow of 80%, the company says FlexFusion can accommodate the most complex cabinet installations.
Click here for the full release