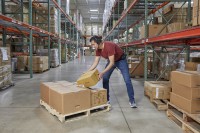 Wireless networking technology
Published: 14 July, 2021
RENOVOTEC, a fast growing UK rugged hardware, software and services provider for supply chain companies is to drive Whitworths' planned warehouse modernisation with new voice picking and wireless networking technology it was announced recently.
The agreed project ROI is less than one year for the new systems and infrastructure investment, led by a 35% increase in voice-driven picking productivity. Whitworths is a UK sector leader in dried fruits, nuts and seeds with its factories, warehousing and head office located on a single 22-acre site. "The company is transforming its operations for 21st century warehousing and smart manufacturing" says Whitworths supply chain director Claire Aldred.
Whitworths' new voice-driven picking environment will replace its paper-based predecessor, giving the company the speed and flexibility it needs to respond to changes in consumer buying habits and retail needs.
Click here for the full release