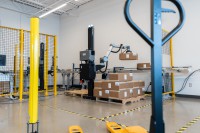 Automated palletising solution
Published: 14 July, 2021
Palletising is a simple, repetitive task that can lend itself perfectly to robotic automation and RARUK AUTOMATION says its new kit makes the transition both simple and quick. The company says its new Robotiq Palletising Kit provides the means to install, set-up and configure the solution to boost production efficiency, with hardware and software supplied ready-connected for a plug and play solution.
Designed for use with RARUK Automation's Universal Robots, it provides manufacturers – irrespective of their size - with all the elements necessary to easily upgrade from manual to fully automated handling and the flexibility to re-programme the solution should the need arise.
The solution has a small footprint eliminating the need to re-organise the floor layout around a central robot and is capable of palletising up to 13 x 8kg boxes per minute.
Click here for the full release
t: 01462 670044
e: automation@raruk.com
www.rarukautomation.com/collaborative-robots/palletising-solution/