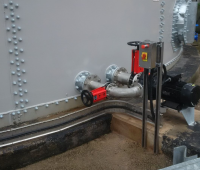 Wastewater mixers reduce maintenance
Published: 05 July, 2021
Following a highly successful upgrade to its wastewater process, Glatfelter, a leading global supplier of engineered materials, says it has made further investments in mixers made by LANDIA.
Manufacturer of quality key products for industries such as food & beverage and electrical, Glatfelter first sought to address downtime, as well as health and safety issues caused by an ageing effluent mixing system.
Glatfelter's project manager, Howard Williams, explains, the problems were manyfold: "Failures with the mixer had become all too frequent and meant downtime in having to wait for it to be repaired."
Hayes GFS a Devizes-based tank specialist suggested Glatfelter try an externally-mounted mixer from Landia. Four years on, Williams describes the installation of the 11kW Jet Mix system as a 'resounding success'; so much so that Glatfelter decided to invest in three more Landia mixers.
Click here for the full release
t: 01948 661 200