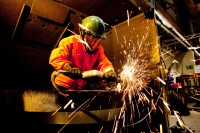 Protective clothing requirements
Published: 02 June, 2021
Many workers in hazardous environments could be wearing protective workwear that is not fit for purpose, according to workwear supply and laundry provider, ELIS.
Elis says it works with thousands of businesses around the UK, advising them on their protective clothing requirements, supplying the workwear and then regularly laundering and maintaining it. The company has in-house PPE expertise in recommending workwear based on risks and hazards present in industrial working environments and estimates that around 60% of business are using at least some workwear that is not fit for purpose.
Elis says it has has been operating its workwear supply and laundry service for over a hundred years and runs a nationwide service, with in-house PPE expertise and a national network of industrial laundries and delivery fleets.
Click here for the full release
t: 0800 616691
w: https://uk.elis.com/en/sectors/industrial