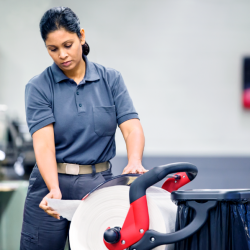 New Tork® productivity guide provides five steps to using "kaizen" for a sustainable competitive advantage
Published: 13 May, 2021
Tork®, an Essity brand, is launching a new guide to "kaizen" that aims to help businesses implement a culture of continuous improvement. Kaizen is the Japanese management theory which advocates that all employees be engaged in the improvement of a business, supported by a new study among machine operators.
Equipped to Improve™ - A guide to improving productivity, is available to download here and contains concrete tips on how to implement a continuous improvement culture. In developing the guide, Tork worked with kaizen expert, Jonas Svanäng, who studied kaizen firsthand when improving Toyota's factories and has applied his learnings in more than 100 organisations internationally.
"The goal of kaizen is to establish a culture of continuous improvement by changing behaviours," says Svanäng. "When your company adopts a kaizen mindset where employees are given the opportunity to influence their workplace, it will lead to more motivated employees."
Machine operators usually work closest to the zones where problems or unnecessary obstacles arise and play an integral part in improving productivity. Recent research shows that 89 percent of machine operators believe that continuing to improve preventive maintenance routines is important and 87 percent agree that preventive maintenance reduces lost production time. *
"We want to help companies improve preventive maintenance routines by contributing with smart and innovative products that can improve efficiency, because we know small changes can have a significant impact," says Jenny Turner, Marketing Director for Industry for Essity's professional hygiene business.
The Tork Performance® system therefore includes a wide collection of professional wiping cleaning products to help optimise autonomous cleaning routines in industrial environments.
Visit www.tork.co.uk/equippedtoimprove to learn more download the free guide