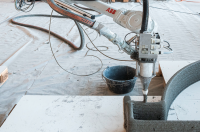 Pressure sensor benefits set in concrete
Published: 31 March, 2021
Pressure sensors perform a vital role in the development of effective robotic solutions for an ever-increasingly diverse and in some cases highly specialised manufacturing applications. One recent example of this is a high-precision pressure monitoring application for concrete processing using 3D printing robots resulting in automated concrete prints, without the need for complex formwork.
This new development approach to enhance printing processes was the result of close cooperation between sensor manufacturer BAUMER and the renowned research institute NCCR DFAB (National Centre of Competence in Research - Digital Fabrication), part of the ETH Zurich.
Meeting the challenges of pumping concrete consistently and reliably for intricate designs, layer upon layer, without the traditional preparation methods involving complex formwork or mouldings was the key factor.
Click here for the full release
t: 01793 783839
e: sales.uk@baumer.com
https://www.baumer.com/gb/en/high-precision-pressure-monitoring-for-improved-quality-in-3d-concrete-printing/n/high-precision-pressure-monitoring