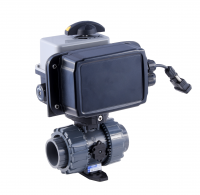 New actuated valve range
Published: 02 March, 2021
ALIAXIS says demonstrating its continued commitment to product development, it is excited to introduce the new PROFIBUS Actuated Valve range, as part of its portfolio of solutions for the industrial and waste water treatment markets.
Designed for use with the solution provider's SuperFlo ABS, FIP PVC, Durapipe Polypropylene and Corzan CPVC industrial pipework systems, the intelligent PROFIBUS Actuated Valves can provide users with greater control and enhanced visibility of the wider system's performance.
Paired with a central programme logic controller (PLC), PROFIBUS allows for up to 250 valves to be controlled via the leading network. This will enable users to operate a network of valves remotely, either individually or in unison, to create patterns and commands for valve operation. The PROFIBUS valve can also feedback to the central PLC on various operating parameters.
Click here for the full release
e: valvesuk@aliaxis.com
w: www.aliaxis.co.uk/actuated-valves