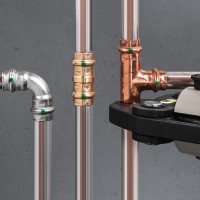 Nickel-free stainless-steel pipe
Published: 18 February, 2021
VIEGA has announced it has further expanded its range of piping solutions for building services, with the introduction of the new Inox 1.4520 pipe. The company says this nickel-free stainless-steel pipe has been designed to ensure consistent quality and regular dimensions that will offer installers a competitive alternative to copper pipe in non-potable, heating and industrial applications.
Viega's new pipe is of a stainless-steel grade that incorporates all the key benefits of copper, such as its high corrosion resistance, without any of the negatives associated with cheaper copper alternatives. This ensures that contractors have a cost-effective, versatile and high-quality stainless-steel solution that is compatible with copper press connections.
Using a precision laser beam welding process, the Inox 1.4520 pipe is available with covered endcaps to ensure the inside of the pipe remains free from any contamination.
Click here for the full release