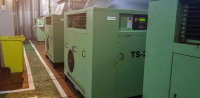 Support for steel manufacturer
Published: 12 February, 2021
Fully integrated steel producer, Liberty Steel Group, has appointed global compressor control, performance and monitoring solutions expert, CMC, to install AIRMATICS at the UK's flagship Speciality Steels site in Rotherham.
AIRMATICS is a cloud-based solution that provides data, analytics and insights for individual compressors through to entire compressed air systems, in real time, via an easy-to-use graphical interface. The move will support Liberty Steel Group's carbon-neutral ambitions by reducing the amount of air compressor-related carbon emissions by up to 30%.
Capable of managing an infinite number of locally interconnected fixed speed or variable output air compressors, regardless of their age and manufacturer, AIRMATICS will now help Liberty Steel manage its entire fleet of Sullair TS20-200 compressors, which are used to produce 100,000 tonnes of high-grade steel each year.
Click here for the full release
w: https://libertysteelgroup.com / https://airmatics.eu