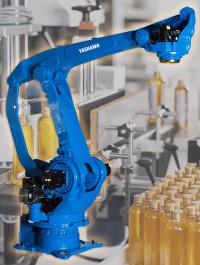 Palletising robots for improved handling
Published: 12 January, 2021
Increased automation, adapting to new labour-saving manufacturing practices and the consequences of COVID-19 is accelerating the demand for effective robotic solutions. This is especially the case in industries where logistics are key such as food, pharmaceuticals and cosmetics where there is increased urgency to improve efficiencies by automating the packing and stacking of individual products.
Motion control and robotics specialist YASKAWA says it continues to develop its MOTOMAN range of robots to meet these demands as illustrated by its newly developed MOTOMAN-PL series. The new MOTOMAN-PL series represents 4 additional options of palletising robots complementing its existing models covering lightweight palletising applications and those which can handle larger, heavier items such as building materials. Click here for the full release
The new PL Series are compatible with the established and successful YRC1000 robot controller.
t: 01295 272755
e: jonny.grey@yaskawa.eu.com
w: www.yaskawa.eu.com / www.yaskawa-global.com/newsrelease/product/36574