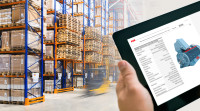 Rib cooled induction motor
Published: 05 January, 2021
ABB says its rib cooled high voltage motor is available from stock for immediate delivery to the UK. The company says the motor provides high power density for compact installations, packing more power per kilogram compared to conventional motors.
This allows operators to often use a motor one frame size smaller than with conventional products, making optimal use of available space and suitable for retrofit applications. Stock frame sizes range from 315 to 450 with ratings of 200 to 1400 kW. Both direct-online (DOL) and variable speed drive (VSD) variants are available for use in hazardous and safe areas.
Rib cooling provides superior air flow for internal cooling, reducing the risk of overheating and unpredicted failures. The motor's rigid, weight-optimised frame is engineered to minimise vibration.
Click here for the full release
W: www.abb.com