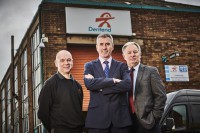 £1m revenue boost after signing partnership
Published: 09 December, 2020
A leading engineering solutions provider has been announced as a preferred supplier to IESA in a deal that could be worth up to £1m per year.
DERITEND GROUP, which recently completed a major relocation project to larger facilities in West Bromwich, has completed the quality assurance exercise required to be listed in the Motor and Gearbox category.
This means the firm will now be part of the global outsourcing specialist's central list of suppliers that companies like Astra Zeneca, Bentley, 2 Sisters Food Group, Michelin and Molson Coors use for their maintenance, repair and operational (MRO) requirements.
It is the result of a year-long discussion, a number of assessments and the creation of a specialist team to respond to enquiries within 24 hours and provide immediate technical support and access to industry-leading equipment and solutions.
Richard Hale, CEO of Deritend Group, commented: "This is a big moment for our business and one that will hopefully lead to lots of new opportunities for us across multiple sectors.
"It's a really good fit as IESA is looking to offer more than just products and want suppliers who can deliver solutions, something we are experts in. Our experience in motors, gearboxes and pumps is second to none and we have a team of engineers ready to meet emergency repair requirements and provide advice on getting the most out of these vital pieces of equipment."
He continued: "We estimate that it will be worth £1m in our first year and comes on the back of a very busy period for us, with the relocation of our Midlands operation to West Bromwich underway and a number of new framework contracts secured."
Deritend is firmly established as one of the UK's leading providers of engineering solutions, including the repair or replacement of electric motors pumps, gearboxes, electronic controls and induction equipment.
Image caption: (l-r) Phil McNally, Richard Hale and Dave Booth (all Deritend) )