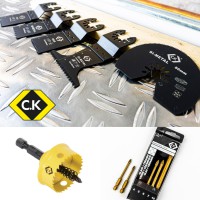 Cutting edge power tool accessories
Published: 07 December, 2020
C.K says, renowned for high quality power tool accessories, it offers everything trade professionals need to power through jobs quickly and efficiently. With that in mind, C.K has enhanced its range with innovative new products, including three new Multitool Blade Sets; a new 40mm HSS Cobalt Sheet Steel Hole Saw; and a Glass and Ceramic Drill Bit Set of 5, all designed to consistently achieve the best results.
The three C.K Multitool Blade Sets, all feature bi-metal blades and include: The C.K Multitool Blade 5 Piece Set (T0870) and two 2 Piece sets (2 x 34mm x 40mm Wood/ Metal Bi-Metal Blades T0875) and (2 x 28.5mm x 57mm Wood/ Metal Bi-Metal Blades T0876).
All the C.K sets were derived from field research.
Click here for the full release.
t: 01758 704704