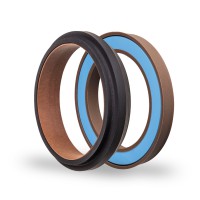 Hygienic sealing portfolio
Published: 03 December, 2020
FREUDENBERG SEALING TECHNOLOGIES has announced it is expanding its sealing portfolio for hygienic systems in the process industry to include two new products: Hygienic Forseal and Hygienic Pressure Seal. Both are specially developed for food applications that experience high pressures and temperatures. The company says the unique combination of high-performance elastomers (EPDM or Fluoroprene XP) and premium PTFE materials (Quantum) also makes the seals resistant to a wide range of aggressive media.
Based on the proven Forseal from Freudenberg Sealing Technologies, the new hygienic version features a design that has been adapted to the extreme conditions and requirements of the food industry. While the classic version of the Forseal uses a steel spring to ensure contact pressure, the hygienic solution uses an elastomer ring. In addition, the Hygienic Forseal offers a flat surface to the product medium and has no undercuts whatsoever in terms of hygiene. The assembly is possible in an undivided installation space. The high-performance, low-wear Quantum PTFE used also has the usual industry-specific approvals for food and beverage applications, in contrast to the standard material of the proven Forseal. Double seals, anti-rotation devices and many other customized adaptations are possible.
The Hygienic Pressure Seal and Hygienic Forseal from Freudenberg Sealing Technologies can enable customers to achieve the highest standards of purity. Flat contact surfaces with the process medium successfully prevent dead spaces.
Click here for the full release
t: 01332 524422
e: fst-food-beverage@dichtomatik.co.uk
w: https://foodandbeverage.fst.com/en/products/innovations/#HygienicPortfolio
https://foodandbeverage.fst.com/en