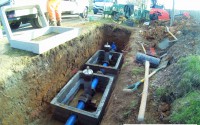 New pipeline portal
Published: 05 November, 2020
Already being trialled in Europe, the Middle East and parts of the UK, the invention from North Wales-based iVapps is reported to be creating waves in the sector and will be launched into the global market next year.
The company says the marine-grade stainless steel portal features the world's first smart cartridge valve complete with inflow technology sensors, enabling the user - from water companies to the pharmaceutical, chemical and food industries and more - to digitise their pipelines and control and monitor temperature, flow, pressure, turbidity and quality.
This will enable the user to identify and resolve issues in a number of areas, including contamination, bursts, and leakages, allowing them to move quickly to prevent further environmental and financial damage and reduce the loss of our most valuable resource - water.
Click here for the full release