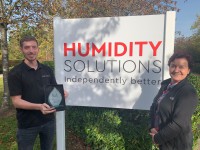 Sustainable Product of the Year Award
Published: 03 November, 2020
HUMIDITY SOLUTIONS has announced it has won the prestigious Sustainable Product of the Year award in the recent HVR Awards, for its desiccant dehumidifier from Danish manufacturer, Cotes A/S.
The submission specifically referred to use of the desiccant dehumidifier in lithium-ion battery production, where ultra-dry conditions of - 60⁰C dew point are required to ensure a problem free manufacturing process. 60% of energy used in a lithium-ion battery production facility is used on power to the dehumidifier.
Cotes dehumidifiers have developed a 3 desiccant wheel set up which reduces the energy consumed by as much as 44%. The company says this is a unique product, saving energy in the production of a product widely considered to be vital in the reduction of use of fossil fuels, pollution at the point of use and the storage of energy.
t: 01372 571200
w: www.humiditysolutions.co.uk
Click here for the full release