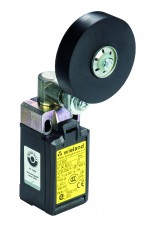 Safe and reliable position monitoring solution
Published: 01 October, 2020
WIELAND says its new sensor PRO safety limit switches (series SLS) provide safe position monitoring in virtually any industrial application. With a metal actuator that can be turned and swapped without tools, sensor PRO SLS switches are a highly reliable position monitoring solution rated to IP66/ 67.
Series SLS switches are suitable for use in conveyor object detection, end-position control, door position detection, and many other safety applications. Actuation of the switch contacts is monitored by Wieland's safety relays, samosPRO COMPACT safety controller, or similar devices and will shut down the machine immediately, addressing any safety hazard.
The new switches have self-cleaning contacts that provide a maximum reliability of 1mA at 24VDC and a life of up to 30 million operations.
t: 01483 531213
Click here for the full release