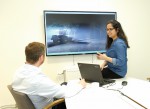 Online academy for work lighting
Published: 17 August, 2020
TYRI, an industry leader in work lighting, has launched an online knowledge platform – TYRI Light Academy. The company says the aim is to spread knowledge about what makes great work lighting and how both productivity as well as work environment can improve with the right lighting in place.
TYRI Light Academy is launching on TYRI's website and will provide insights, tips, knowledge and updates on new innovations in work lighting.
"TYRI Light Academy is the first of its kind in our industry. We started this project because we found that the level of knowledge on what makes good lighting and how it can be used effectively is generally quite low, a fact that can lead to faulty decisions which can cost a business unnecessary damage to both revenue and brand image," says Annette Brown, marketing manager.
Click here for the full unedited version of the release as provided by the company