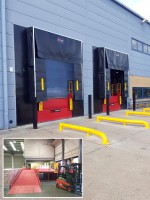 Safe installation enables key worker compliance
Published: 08 July, 2020
2Excel Logistics, a customer-orientated haulage and warehousing operation, has safely achieved completion on a THORWORLD INDUSTRIES modular loading dock installation in challenging times, with all teams involved working compliantly to meet social distancing guidelines.
Prior to the COVID-19 outbreak, the firm had won a major 10-year food supply contract, which necessitated the purchase of a higher specification operation close to its existing fulfilment centre. Having found the perfect site 2Excel was faced with the challenge that the warehouse had no loading docks, only level access doors.
Justin Wilkie, MD began researching appropriate modular dock systems and installation solutions. He found loading specialist Thorworld Industries online and was impressed with the options the manufacturer could supply.
"Thorworld's modular dock system design was visually stunning," Justin remarks, "and looked set to deliver in terms of improved efficiencies surrounding unloading loose containers."
Click here to read the full unedited version of the release as provided by the company