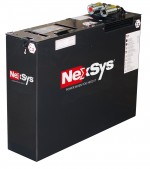 ATEX batteries bring advantages
Published: 28 May, 2020
NexSys ATEX batteries, available from ENERSYS, can allow materials handling vehicles to work safely in hazardous areas where there is an explosion risk. The company says they conform to ATEX standards, which are compulsory and a legal requirement in Europe and NexSys batteries are also available world-wide certified in compliance with IECx standards.
The new batteries, available in nearly all DIN sizes and capacities, offer significant advantages over both Valve Regulated Lead Acid gel and flooded lead-acid solutions. These advantages result from the Thin Plate Pure Lead technology used in the batteries' construction. Accordingly, they offer outstanding Amp-hour capacity.
NexSys ATEX batteries require lower maintenance than flooded types, with no need for topping-up. Critically for hazardous environments, the batteries' electrolytes are non-spillable, as they are absorbed into the Absorbent Glass Mat separator material.
Click here for the full unedited version of the relase as suplied by the company