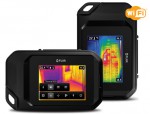 Added value thermal imaging
Published: 31 October, 2018
FLIR SYSTEMS says whether you are a builder or electrician new to thermal imaging or someone who already appreciates the power of the technology and wants more functionality, it has good news - from 15th October 2018 to the end of this year, the company is running an incentive programme that also includes special, cost-saving product bundles.
The company says the FLIR C3 is a powerful, fully-featured, pocket-sized thermal camera designed for a wide range of building and electrical/mechanical applications. Its slim, light profile fits comfortably into any work pocket so the camera is instantly available for troubleshooting.
During this promotional period, the FLIR C3 is either available as a stand-alone product that carries a 16% discount or as part of two product bundles.
w: www.flir.co.uk/promotions/instruments/autumn-sale-2018/
Click here for the full unedited version of the release as supplied by the company