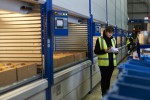 MRO Consolidators: what are they and why might you need one?
Published: 03 January, 2020
By Jamie Mitchell, key account director, Brammer Buck & Hickman
When it comes to managing maintenance, repair and overhaul (MRO) products, many organisations go down the traditional route of in-house stores management. This includes ordering MRO supplies directly from manufacturers or through a distributor to then be collected from a local branch or delivered to site.
However, management of the on-site store often results in issues, including diverting resources from the main business. To avoid this, some companies hand over inventory management to a third party. For larger companies, a further option is available in the form of an MRO consolidator who can provide services and dedicated personnel on-site. Click here for the full release.