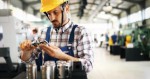 Keeping lifts running smoothly
Published: 17 December, 2019
SLG GROUP UK says when lifts fail, the issues can be severe – loss of operational continuity (potentially resulting in failed order deadlines or loss of contracts, with associated reputational damage) or even serious injuries or fatalities, with prosecution an all too likely consequence. Lifting gear plays a crucial role within the supply chain and its maintenance is a vital element in ensuring the ongoing performance and safety of lifting equipment. 
Therefore, keeping lifts running smoothly and reducing downtime is a must. With lots at stake, while it may first appear cheaper to hire third-party engineers to perform maintenance checks or repairs, a lack of in-depth knowledge and easy access to the correct replacement parts may end up in a larger loss of money in the long term.
Lifting equipment being out of action can cost a business time, money or even the cancellation of a contract. Using the OEM for maintenance and repairs ensures reliable support for both basic and advanced issues from the expert who knows all there is to know about the lifting equipment. When it comes to seamless service and maintaining a good reputation, partnering with the OEM is a must.