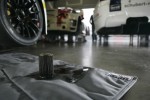 Health and safety – keep compliant
Published: 10 December, 2019
MEWA Textile Management says for commercial garages and repair workshops leaks and spills are part of the working environment. For most, the cleaning and disposal of liquids like fuels, hydraulic fluid and lubricating oils involves little more than blue roll and drip trays. But is this safe, compliant, reliable and economical? 
With greater focus on waste materials and environmentally friendly cleaning practices, one approach that is gathering traction is the use of third-party suppliers which deliver high quality wipes and mats on a contract basis. Once used, these cleaning cloths are collected, laundered and returned for reuse.
MEWA Textile Management, based in Wiesbaden, Germany, is one of the leading players in the sector and its products include cotton MEWATEX wipes. Highly absorbent, robust and durable, these wipes are able to absorb significant volumes of oil, grease or other fluids found in vehicles and service workshops.
W: https://corporate.mewa.co.uk/newsroom/all-videos/
Click here for the full release