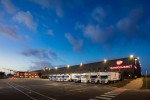 Wholesale energy savings
Published: 19 November, 2019
TransGourmet is a European food wholesaler supplying fresh produce to leading food outlets. The wholesaler required a state-of-the-art lighting solution for its new 25,000²m warehouse facility in St Loubes, western France, to save energy and provide a high-quality working environment. Leading lighting solutions provider, SYLVANIA, specified its SylSmart intelligent lighting system for the facility. 
TransGourmet's new warehouse space will allow the business to grow and expand into the new space, with the long-term strategy for the business to maximise the space for the next 20 years. With a goal to provide a modern and efficient working space, the Sylvania system has the capacity to save up to 90% energy savings on previous systems.
"The benefits of a multitude of new technologies combined, including lighting, ergonomic workstations and security, ensure this facility is future-proof," said Sebastien Diot, director TransGourmet.
https://www.sylvania-lighting.com/en-int
Click here for the full unedited version of the release as provded by the company