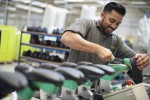 Anti-fatigue matting
Published: 07 November, 2019
COBA EUROPE says its Orthomat anti-fatigue matting has been installed by Hotter at its Lancashire headquarters, considered to be one of the most advanced shoe-making facilities in the world.
Hotter had conducted a survey which revealed that staff carrying out repetitive actions, such as standing in a static position, were twice as likely to experience work-related absence, such as a fatigue, foot and muscular pain, compared to those roles where walking and movement were present. Anti-fatigue mats, coupled with microbreaks, role changes and better employee 'rest' initiatives, are proving part of the solution for Hotter.
COBA says Orthomat's foam composition provides underfoot cushioning which encourages feet to adapt to the mat's surface; aiding blood circulation and helping to delay the onset of fatigue from standing.
t: 0116 240 1088/
e: sales@cobaeurope.com
Click here for the full uneited version of the release as provided by the company