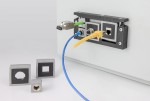 Modular designed grommet system
Published: 24 October, 2019
The new IMAS-CONNECT adapter system by ICOTEK is a modular designed grommet system for mounting metric connectors, keystone couplers, hose fittings, pressure compensation elements and much more.
The company says by using the modular adapter system, the cable entry becomes a hybrid system. Pre-terminated and standard cables or hoses can be routed and, with the use of the IMAS-CONNECT grommets, you can now integrate various types of connectivity ports into the frame system. Additional knock-outs are no longer required.
The elastomer-made grommets of the adapter system with a body made of polyamide or nickel-plated brass, fit perfectly into existing icotek cable entry frames, such as KEL-U, KEL-ER, KEL-FG and meet IP54 or IP65 protection levels.
W: https://www.icotek.com/en-uk/product-catalogue/imas-connect/
Click here for the full unedited version of the release as provided by the company