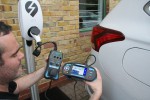 Leading the charge
Published: 17 October, 2019
METREL,  test equipment manufacturer, says the unreliable charging infrastructure is preventing the EV (electric vehicle) roll out, according to an article in Autocar and this is hardly surprising given the ad hoc manner of the development of the infrastructure and the lack of strategic control.
Today apparently there are in the region twenty eight thousand charging stations in the UK, of which ten thousand of these are privately owned.
To add an additional level of confusion, there are at least ten manufacturers of vehicle charging equipment approved by the Office for Low Emission Vehicles.
Metrel, says it has developed an EVSE adapter, A1532, that can interface between any charge point and their own or any manufacturers' tester. The adapter facilitates the testing of single and three- phase chargers and can test functionally.
t: 01924 245000.
Click here for the full unedited version of the release as provided by the company