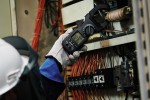 High-current clamp meter
Published: 02 October, 2019
FLIR SYSTEMS, Inc. (NASDAQ: FLIR) has announced the FLIR CM94 2000-amp AC/DC electrical utility clamp meter. The company says designed to tackle high current electrical measurements in demanding utility and industrial job sites, the CM94 features an oversized jaw to easily manage larger conductors and busbars.
With CAT IV-1000-volt overvoltage protection, the FLIR CM94 works on relays, distribution panels, vaults, switchgears and switchboards, as well as on service conductors, feeders, and production power lines.
The durable clamp meter's 55-millimetre (2.2 inches) jaw easily clamps around large conductors or multiple conductors at once. With True-RMS (root mean square) to measure alternating voltage or current, and Low Impedance (LoZ) mode to clear ghost voltages, the FLIR CM94 provides accurate testing capabilities to get the job done right and keep electrical workers safe.
Click here for the full unedited version of the release as provided by the company