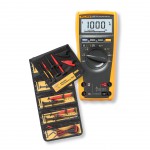 DMM Safety Bundle
Published: 25 September, 2019
Until 31st December 2019 and while stocks last, FLUKE has announced it is offering a DMM Safety Bundle consisting of a Fluke 179 Digital Multimeter (DMM) with a free Fluke TLK-225 SureGrip Master Accessory set of leads and connectors representing a discount of over 20% (manufacturer recommended prices) on the items purchased separately. Said to be ideal for electrical and electro-mechanical applications, this Fluke 179/TLK225-1 offer and other Autumn Specials can be can be accessed via the Fluke home page at www.fluke.co.uk. 
The Fluke 179 DMM is a full-featured, precision multimeter for the troubleshooting and repair of electrical and electronic systems.
The Fluke TLK-225 SureGrip Master Accessory Set consists of 13 items, providing flexibility and comfort with all SureGrip leads and probes in a convenient six pocket, roll-up pouch.
t: 0207 942 0700
e: industrial@uk.fluke.nl
Click here for the full unedited release as provided by the company